Gary Hirstius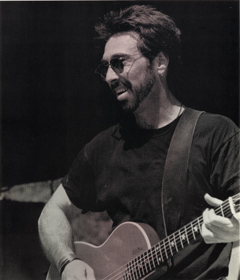 The people of New Orleans have always been surrounded by music, especially Gary Hirstius. Besides the natural influence of being born and raised in a city so rich in musical heritage and style, his father is a trumpet player in the real-deal Storyville Dixieland Jazz Band. There were always combinations of guitar, trumpets, and drums lying around the house and at age 14, Gary started to gig with his guitar. By 17 he was playing on Bourbon Street, holding musical residence at the world famous strip club Big Daddy's. It wasn't long before Gary found himself playing what he calls the "Bayou Circuit," the small cities and towns of the swampy and wild Cajun country south of New Orleans.
It is an easy and characteristic process to become jaded with such consistent playing and it didn't take long for Gary to realize he needed something else to happen, something new. An ex-cop cousin who was employed as a detective gave Gary an introduction to the alternative that he sought. At the age of 21, with no experience and no training, Gary Hirstius began his other calling - private investigation. Like music, detective work came naturally. He soon had himself dual careers - his songs and stage energy often a byproduct of the stress involved with surveillance and other modes of anonymously meddling in others' lives, hired by sometimes strange and insidious individuals to watch other strange and insidious individuals.
He only left New Orleans to reside and play music in New Jersey for a year but found the Big Easy - with its people, diversity, and music - a place he couldn't stay away from. In 1986, Gary became the frontman of the original Continental Drifters who later became the Subdudes. The "Rock `n' Roll Detective" (as he soon became known as) also fronted his own Junior Mays Band and Tommy Malone (formerly of the Subdudes) and Dave Malone (currently with the Radiators), and was the last heard leading Jackson Meddler (later renamed NO Angels) with former Evangeline members Beth McKee and Sharon Leger. It's an entirely new story now with Day Seven and Mr. Hirstius is ready to emerge from the clandestine nature of his investigations once again, this time to stay. There will be no doubt to the legitimacy and talent of this great band and Gary's timeless songs. Just be prepared for the roller coaster ride of emotions at their live shows, mostly be ready to leave impressed and already humming formerly unfamiliar songs.

NEW Press Release!
---