HoneyPot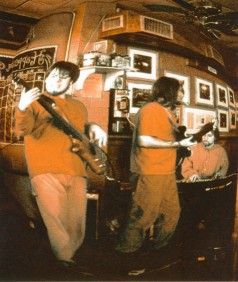 In the mid 1990's, guitarist John Dandry, and bassist Will Langford spent hours upon hours in the practice room developing a unique and provocative sound. Meanwhile, the duo had the opportunity to spend time in the recording studio, working on their own projects as well as recording tracks for other artists. As a result, their sound got phater and their jams got more psychedelic. Regardless, they felt as if something was missing, and in the summer of 1998 they met Joshua Gold (keyboards) and things just seemed to explode in a colorful hue of melodic and rhythmic soul satisfaction. Together with drummer "Mean" Willie Green of the Neville Brothers, the group began gigging at most every venue in the New Orleans area.
With an evolving, large underground grassroots following from the under-water world of hypnotic groove jams to the rocky, hippy-trick fusion scene, HP began to provide an elaborate array of flavors constantly mixing up and adding to their undefined collage of musical bliss.
As HP expanded upon their unique sound, their opportunities expanded with them. The group began playing gigs with such notable bands as New Orleans favorites Iris May Tango and All That, as well as Chicago based powerhouse Liquid Soul. They have also headlined bills with the Re-Birth and New-Birth brass bands and gigged with Strangefolk in a show promoted by Superfly Presents. And in February of 2000, fusion drummer Kofi Baker joined the band, bringing with him the licks he originally learned from his father, Ginger. So what did their colleagues think of the young HoneyPot? According to Liquid Soul, "They blow most of the bands we play with out of the water."
With the release of their two live EPs, "Dr. Delight's Rendezvous With the Wolf" and "Slim's Bust" and their album "Aquasox", HoneyPot is climbing the ladder of success.
---