Nicole LaBranche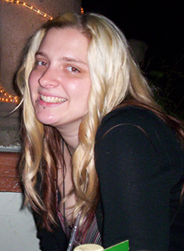 Nicole LaBranche grew up with a love of the arts. As a child she loved to draw and be creative. In high school she focused on taking lots of art courses as well as film classes.
She entered the University of New Orleans in 1998 and focused on film and graphic design. In May of 2006 she graduated with a BA in film and fine arts.
Through a family member, Nicole was first introduced to Buzzy Beano in 2000. Her interest in music and graphic design led her to inquire about Four Cats/Radionic Records. Nicole has now been with Four Cats/Radionic Records for 6 years and continues to play a role in graphic design, website design, and internet promotions. During this time she has also worked on several films in the New Orleans area including a Paramount feature film. She works in the art department on films and hopes to soon do graphic design work for films as well.
Nicole is also starting her own freelance company called Pickledsnail Graphix. She provides graphic design and website design for small local companies in her spare time.
Though busy with her career in the film industry, she still finds time to be a part of the growing success that is Four Cats/Radionic Records.