Chuck Credo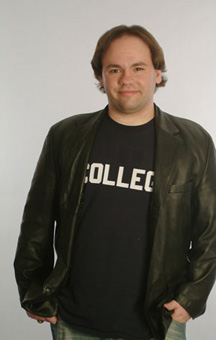 The day Chuck Credo IV was born, his grandfather...Chuck Credo Jr. was being rewarded with the keys to the City of New Orleans for being an Amabassador Of New Orleans Culture abroad. Chuck Jr. and his band (The Basin Street Six) had just arrived back in town after their 1980 tour of Asia. Chuck Jr.'s arrival back in New Orleans was a tremendous celebration that was added to by the birth of his first grandson, Chuck Credo IV..to whom he gave the keys to the city for his first birthday present.
Chuck IV grew up surrounded by music. The sounds of Dixieland Jazz were heard every weekend as he watched his grandfather perform around the Gulf Coast area. His focus in life came in 1986 when he first picked up his dad's guitar and played "Johnny B. Goode" at a family wedding. After experiencing the response of a crowd to rock 'n' roll music at such a young age, Chuck knew what he wanted to be.
Chuck began playing guitar in third grade and started taking lessons shortly afterwards. The musical background of his family launched him "into the deep end" pretty early on...performing with many different groups when he was very young: The No Convictions, The Basin Street Six, New Orleans Sounds and Rhythms, The Passport...until he finally got to high school and started his first band "The Mixed Nuts".
In 1997, The Mixed Nuts began as a typical high school group, performing at parties and school functions. It is during this time that Chuck met Buzzy Beano and the rest of the guys in The Topcats. The Topcats allowed The Nuts to come and perform a few songs during their break at the Archbishop Rummel Junior Prom. Even though the performance was a little "rough around the edges" in those days, The Nuts were invited to perform with The Topcats on several occasions that Summer, which helped launch the band's career!
Chuck began Louisiana State University in 1998 and worked for years studying studio engineering and technique...along with earning a BA in Advertising in 2003. After arriving back in New Orleans later that year, Chuck began working with Buzzy Beano and Richard Duncan to help re-define Radionic Records as one of the fastest growing ORIGINAL record labels in The New Orleans area. Besides production, Chuck also performs as a studio-session player and art designer for the label. He also contributes as a talent scout, always looking for new talent to add to the Radionic family.
Chuck also works in the live music industry as an event promoter. Along with Topcat Rob Schulte, Stacpot/Credo Productions has brought about successful concerts and festivals like: 40 Years Of Beatlemania: A Tribute To The Beatles (2004, 2005), Holiday Angels: Concert For Angel's Place (2003, 2004, 2005), and The Southport Hall Anniversary Concerts (2005, 2006).
Today, Chuck continues to perform every week with The Mixed Nuts. On those rare off nights from The Nuts and the studio, Chuck also performs with The Harmon Drew Supergroup and Hopalong Catastrophe. In 2006, Chuck also began recording his first solo CD that will be released in 2007.