Todd Washko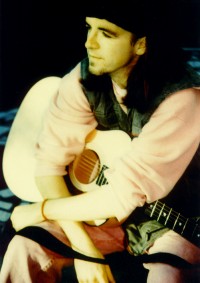 Four years after the release of his debut CD, "going somewhere", Todd Washko returns with a new cast of characters and a deeper, richer sound for his follow-up, "gone" (Radionic Records, New Orleans).
Raised in Nashville, Washko became yet another refugee from the country wasteland of Music City in 1990 when he settled in New Orleans. A classically-trained trumpet player by trade, he was pushed in a different direction by the strange beauty of the Crescent City, and he began writing down thoughts. Thoughts quickly turned to lyrics, and in 1994 he borrowed a friend's guitar to craft them into songs; the friend never saw his guitar again.
Without any formal training on the instrument, Washko has spent the last eight years refining a distinctive guitar style and a keen songwriting talent. The guitar relies on propulsive bass lines augmented by upper-register melody lines, reminiscent of a Dave Matthews / Ani DiFranco hybrid, yet unmistakably his own. Within this framework, he wraps tuneful melodies around vivid lyrical portraits of various eccentric characters, both real and otherwise. The evocative images belie Washko's recent arrival to songwriting; both folk-based storytelling and direct first-person songs carry powerful emotional impact.
Washko has also broadened his musical horizons in other ways since arriving in New Orleans. He stretched out on trumpet during a two-year stint with the neo-funk outfit Honeypot, and he has made guest appearances with groups including the Continental Drifters and Theressa Andersson. He has even begun teaching himself to play the clarinet, the first results of which are on the new CD. He has played at Carrollton Station, Checkpoint Charlie's, and the House of Blues Parish room, as well as at clubs throughout the southeastern United States. His debut CD earned airplay on fifteen radio stations nationwide, affirming his arrival as a first-rank songwriter.
On "gone", producers Buzzy Langford and Richard Duncan have framed Washko's songs with new textures and colors to add depth and a sharper edge to his sound. The result is a pop record that defies description, spanning a range of moods and styles and full of suprising turns: the exuberance of love on "Molly's at the Market"; the brooding of loss, accented by Washko's muted trumpet, on "Stranded"; the mentally ill patient's escape in "Mood Swing", simultaneously funny and faintly menacing. Gone illustrates clearly why Washko is considered one of the most promising songwriters in New Orleans today.

---